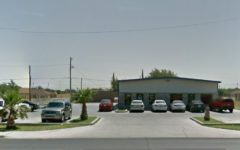 Get the perfect the perfect place for your next party! We rent our event venue on South Lamesa Rd. Pricing for the room alone is $125. Rental is $150 if a wet jumper setup is used (jumper rental is separate). There is a $100 refundable deposit, for cleaning and damages. Extra items and supplies are rented separately.
Our new venue can hold up 900 people and up. Inside it has a huge dance floor, a area with a tv in it, a place for catering, a stage for special guest, a dj area, a huge backyard area with a stage that lights up. Rents for 1,800 on Saturday's and Sunday's for inside only and backyard area rents for 1,500 and the entire venue rents for 3,300. Monday-Friday except holidays inside venue is 1,500, outside is 1,200 and entire venue is 2,700.
Lamesa Rd. Event Venue
Ziah's Crystal Chandelier Event Center
201 S Lamesa Road,
Midland, TX 79701
101 N Mineloa Street,
Midland TX 79701
Times Available
9:00am to 12:00am (to midnight)
Capacity
up to 70 guests
up to 500 guests
Rental Fee
$380.00 for 4 hours,
+1 hour for setup
$3200.00 for 4 hours,
+1 hour for setup
Includes
7 8-ft tables
40 chairs
1 regular jumper
25 round tables
2 8-ft tables
200 crystal chairs
Deposit
$100.00 *refundable
$500.00 *refundable
Additional Time
$50.00 each hour
$200.00 each hour
Map & Directions
Address: 201 S. Lamesa Road, Midland, TX 79701
Party Room Photo Gallery
Call MDG Party Rentals Today!
A Great Selection of Party Supplies & Rentals at Affordable Prices. Local-Family Owned Business.
(432) 978-5285
Monday-Friday: 9am to 5pm
Saturday: 9am to 3pm
Sunday: Closed